Carter Burwell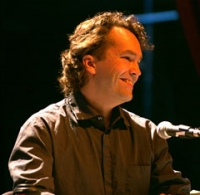 Carter Burwell (born November 18, 1955) is an American composer of film scores.
Burwell was born in New York City. He graduated from King School in Stamford, Connecticut, and Harvard College.
As a film composer, Burwell has had a long working relationship with the Coen Brothers, providing music for every film they have made (except for O Brother, Where Art Thou?, where he simply provided additional music to a score primarily composed by T Bone Burnett). He enjoys working with left-field directors and has also scored Spike Jonze's films. Among his best known film scores are And the Band Played On (1993), Conspiracy Theory (1997), Hamlet (2000), The Spanish Prisoner (1997), Before the Devil Knows You're Dead (2007), In Bruges (2008) and Twilight (2008).
Burwell, like many composers, studied piano. Starting lessons when he was 7, he studied Mozart mostly, but eventually quit.
In April 2005, Burwell composed and conducted music, performed by The Parabola Ensemble, for the plays "Sawbones" written and directed by the Coen Brothers, "Hope Leaves the Theater" written and directed by Charlie Kaufman and "Anomalisa" written and directed by Francis Fregoli. This was a segment of the sound-only production Theater of the New Ear, which debuted at St. Ann's Warehouse in Brooklyn, NY with support from Sirius Satellite Radio, United Talent Agency and Sony Pictures.
Burwell married Christine Sciulli in 1999.
Carter Burwell Latest Sheets Feed
Carter Burwell Latest Requests Feed
Advertisement Advertisement