Michael Jackson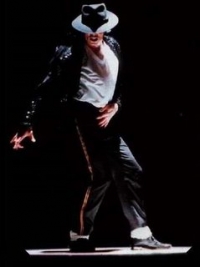 Michael Joseph Jackson (August 29, 1958 – June 25, 2009) was an American singer, dancer and entertainer. Referred to as the King of Pop, he is the most commercially successful entertainer of all time, and one of the most influential. His contributions to music, dance and fashion, along with a much publicized personal life, made him a global figure in popular culture for over four decades.
Alongside his brothers, he made his debut as lead singer and youngest member of The Jackson 5 in 1964. He began his solo career in 1971. His 1982 album Thriller remains the best-selling album ever, with Off the Wall (1979), Bad (1987), Dangerous (1991) and HIStory (1995) also among the world's best-selling albums. He is widely credited with having transformed the music video from a promotional tool into an art form with videos for his songs such as "Billie Jean", "Beat It" and "Thriller" making him the first African American artist to amass a strong crossover following on MTV. With stage performances and music videos, Jackson popularized a number of physically complicated dance techniques, such as the robot and the moonwalk. His distinctive musical sound, vocal style, and choreography, is credited with stretching across and breaking down cultural, racial, economic, generational, and global barriers that has inspired countless pop, rock, R&B and hip hop artists.
One of the few artists to have been inducted into the Rock and Roll Hall of Fame twice, his other achievements feature multiple Guinness World Records—including the "Most Successful Entertainer of All Time"—15 Grammy Awards (including the "Living Legend Award" and the "Lifetime Achievement Award"), 26 American Music Awards (24 only as a solo artist, including one for "Artist of the Century")—more than any artist—, 17 number one singles in the US (including the four as a member of the Jackson 5), and estimated sales of up to 750 million records worldwide making him the world's best selling artist in history.
Jackson's personal relationships and life generated controversy for years. His changing appearance was noticed from the late 1970s onwards, with changes to his nose and to the color of his skin drawing media publicity. He was accused of child sexual abuse in 1993 though no charges were brought, and in 2005 he was tried and acquitted when the jury ruled him not guilty on all charges. He married twice, first in 1994 and again in 1996, and brought up three children, one born to a surrogate mother. While preparing for the This Is It concert tour in 2009, Jackson died at the age of 50 after suffering from cardiac arrest. He reportedly had been administered drugs such as propofol and lorazepam, and his death was ruled a homicide by the Los Angeles County coroner. His death triggered an outpouring of grief from around the world with his globally live broadcast memorial service attracting an audience of up to one billion people; as well as a huge surge in his album sales, resulting in him becoming the best selling artist of 2009 with sales in excess of 8.2 million in the United States where he became the first artist ever to have 4 of the top 20 best-selling albums in a single year, and 29 million albums globally, where he had an unprecedented 8 of the top 25 best-selling albums worldwide.
Michael Jackson Latest Sheets Feed
Michael Jackson Latest Requests Feed
Advertisement Advertisement