Oleta Adams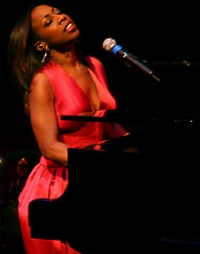 Oleta Adams (born 4 May 1962, Seattle, Washington) is an American soul, jazz, and gospel singer and pianist.
Adams started her career in the early 1980s with two self financed albums which had limited success. In 1985, she was discovered by Roland Orzabal and Curt Smith, founders of the English pop band, Tears for Fears, whilst performing in a bar in Kansas City, Missouri. They invited her to join their band as a singer on their next album The Seeds of Love.
In 1989, the album was released and the single "Woman In Chains" - sung as a duet by Adams and Orzabal and with Phil Collins on drums - became her first hit. Adams restarted her solo career in 1990, assisted by Orzabal who co-produced her new album, Circle of One. The album received much critical acclaim and she scored her biggest hit to date in 1991 with her Grammy nominated cover of Brenda Russell's "Get Here". 1991 also saw Adams contribute to the Elton John/Bernie Taupin tribute album, Two Rooms, on which appeared her version of John's 1974 hit "Don't Let the Sun Go Down On Me". Adams' version became another top 40 hit in the UK.
Her next album, Evolution (1993), was also a commercial success. Her 1995 release, Moving On, saw Adams move more in the direction of R&B, and she also reunited with Tears For Fears for the duet "Me And My Big Ideas" the same year. Two years later she released the Christian themed album Come Walk With Me.
Adams released her first Christmas album on 3 October 2006, entitled Christmas Time with Oleta.
Oleta Adams Latest Sheets Feed
Oleta Adams Latest Requests Feed
Advertisement Advertisement