Alan Parsons Project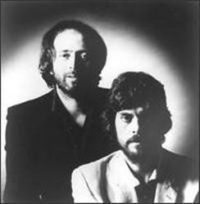 The Alan Parsons Project were a British progressive rock band active between 1975 and 1990, founded by Eric Woolfson and Alan Parsons.
Most of the Project's titles, especially the early work, share common traits (likely influenced by Pink Floyd's The Dark Side of the Moon, on which Parsons was the audio engineer in 1973). They were concept albums, and typically began with an instrumental introduction which faded into the first song, often had an instrumental piece in the middle of the second LP side, and concluded with a quiet, melancholic, or powerful song. The opening instrumental was largely done away with by 1980; no later Project album except Eye in the Sky featured one (although every album includes at least one instrumental somewhere in the running order). The instrumental on that album, "Sirius", eventually became the best-known (or at least most frequently heard) Parsons instrumental because of its use as entrance music by various American sports teams, most notably by the Chicago Bulls during their 1990s NBA dynasty as well as during broadcasts of Pittsburgh Steelers games on their flagship station WDVE (which is coincidentally a classic rock station) just before the start of the game itself or the second half. It was also used as the entrance theme for Ricky Steamboat in pro wrestling of the mid 1980's.
The group was notable for using several vocal performers instead of having a single lead vocalist. Lead vocal duties were shared by guest vocalists chosen by their vocal style to complement each song. Woolfson sang lead on many of the group's hits (including "Time" and "Eye in the Sky") and the record company pressured Parsons to use him more, but Parsons preferred "real" singers, which Woolfson admitted he was not. In addition to Woolfson, Chris Rainbow, Lenny Zakatek, John Miles, David Paton and The Zombies' Colin Blunstone made regular appearances. Other singers, such as Arthur Brown, Procol Harum's Gary Brooker, Dave Terry aka Elmer Gantry, Vitamin Z's Geoff Barradale and Marmalade's Dean Ford, have recorded only once or twice with the Project. Parsons himself only sang lead on one song ("The Raven") through a vocoder, and can be heard singing backup on a few others, including "To One in Paradise". Both of those songs appeared on Tales of Mystery and Imagination.
Alan Parsons Project Latest Sheets Feed
Alan Parsons Project Latest Requests Feed
Advertisement Advertisement