Spirited Away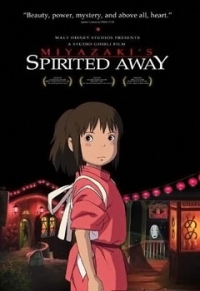 Spirited Away - literally Sen and Chihiro's Spiriting Away is a 2001 film by the Japanese anime studio Studio Ghibli, written and directed by famed animator Hayao Miyazaki.
The film received many awards, including the second Oscar ever awarded for Best Animated Feature, the first anime film to win an Academy Award, and the only winner of that award to win among five nominees (in every other year there were three nominees). The film also won the Golden Bear at the 2002 Berlin International Film Festival (tied with Bloody Sunday).
The closing song, Always With Me was written and performed by Yumi Kimura, a composer and lyre-player from Osaka. The lyrics were written by Kimura's friend Wakako Kaku. The song was intended to be used for a different Miyazaki film which was never released, Rin the Chimney Painter. In the special features of the dvd, Hayao Miyazaki explains how the song in fact inspired him to create "Spirited Away".
The other 20 tracks on the original soundtrack were composed by Joe Hisaishi. His The River of That Day received the 56th Mainichi Film Competition Award for Best Music, the Tokyo International Anime Fair 2001 Best Music Award in the Theater Movie category, and the 16th Japan Gold Disk Award for Animation Album of the Year. Later, Hisaishi added lyrics to "Ano hi no Kawa" and named the new version The Name of Life which was performed by Hirahara Ayaka.
Beside the Original Soundtrack, there is also an Image Album, which contains 10 tracks.
Spirited Away Latest Sheets Feed
Spirited Away Latest Requests Feed
Advertisement Advertisement