Barry Harris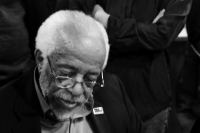 Barry Doyle Harris (born Detroit, Michigan, December 15, 1929) is an American bebop jazz pianist and educator.
Harris left Detroit for New York City in 1960. Influenced also by Art Tatum, Coleman Hawkins, Charlie Parker, and Thelonious Monk, Harris's playing is noted for its uncanny similarity to Bud Powell.
Harris has played with Cannonball Adderley, Illinois Jacquet, Coleman Hawkins, Dexter Gordon, and Max Roach. As a lead artist, he has recorded over 14 albums.
During the 1970s, Harris lived with Monk and his family at the Weehawken, New Jersey home of the jazz patroness Baroness Pannonica de Koenigswarter, and so was in an excellent position to comment on the last years of his fellow pianist.
Harris appears in the 1989 documentary film Thelonious Monk: Straight, No Chaser (produced by Clint Eastwood), performing duets with Tommy Flanagan.
Since 1996 Barry Harris has collaborated with Toronto-based pianist and teacher Howard Rees in creating a series of videos and workbooks documenting his unique harmonic system and teaching process.
In 2000, he was profiled in the film Barry Harris - Spirit of Bebop.
Barry Harris continues to perform and teach worldwide. When he is not travelling, he holds weekly music workshop sessions in New York City for vocalists, students of piano and other instruments.

Barry Harris Latest Sheets Feed

Barry Harris Latest Requests Feed
Advertisement Advertisement